Preparing and sending your samples
Preparing and sending your samples
Please follow our guidelines to ensure that you send sufficient DNA for your genotyping project, and that it arrives at LGC, Biosearch Technologies in good condition.
When shipping DNA samples to Biosearch Technologies for a genotyping project, please ensure that you follow the guidelines below.
Failure to do so may result in a delay to your project. Please ensure that you have submitted your sample plate information to your project manager, using the appropriate DNA sample template, prior to shipping samples to Biosearch Technologies.
DNA sample submission checklist
DNA quantity – submit the appropriate volume/mass of DNA for the number of target SNPs within your project.
Plate type – samples should be submitted in 96- or 384-well plates
Plate sealing – ensure that the sealing method is sufficient to seal each individual well
Labelling of plates – each plate must be barcoded or clearly and permanently labelled
Packaging of DNA sample plates – please use a cardboard spacer between stacked plates to prevent piercing of seals
Shipping – we recommend shipping DNA sample plates on dry ice.
Turnaround time – if your genotyping project is to be processed as FAST turnaround time please attach the FAST turnaround time label that can be downloaded from the turnaround time webpage.
DNA quantity
The quantity of DNA that is required will vary depending upon the scale of your genotyping project and upon the genome size of your study organism. DNA can be shipped to DNA in a dried down or liquid format, and it is always preferable to send in DNA at a higher concentration or mass than the minimum requirement. For detailed guidelines on the mass or volume of DNA to submit for your genotyping project, please download our factsheet.
Please note that the minimum mass of DNA that we accept per sample is 2 ng, and the minimum concentration that we accept per sample is 5 ng/µL (based on human genome size). Biosearch Technologies also requires a small additional spare mass/volume for the robotic pipetting process that we use in-house.
Allow a minimum of two no template control (NTC) wells per 96-well plate and four NTC wells per 384-well plate.
Plate type
DNA samples should be submitted to Biosearch Technologies in 96- or 384-well plates.
Commonly received plate types include:
Any 96-well PCR-compatible plates
Any 96-well V-bottomed plates
Deep well 0.5 mL plates (Costar or Greiner)
Square-well plates with 384 wells (Greiner, ABgene or Nunc).
Please note: we are unable to accept 96-well plates with a well volume of greater than 0.8 mL. These plates are not compatible with our robotics systems. If use of these plates is unavoidable, we can transfer your samples to a compatible plate but this will incur an additional charge.
Plate sealing
It is essential that all DNA sample plates that are shipped to our laboratories are sufficiently sealed to prevent sample leakage and contamination.
The use of sticky seals is typically not sufficient, and can result in substantial sample leakage (see Figure 1).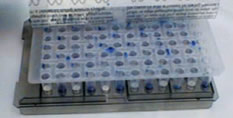 Figure 1. Test plate shipped using a sticky seal. Samples (blue liquid) have leaked across the surface of the plate and will result in cross-contamination between samples.
Biosearch Technologies recommends the use of two techniques for sealing of DNA sample plates:
Heat sealing – the use of a thermal weld achieved by an automated or semi-automated heat sealer will ensure that each individual well of the sample plate is sealed. Find out more about the Kube, Biosearch Technologies' heat sealing instrument.
Cap mat sealing – cap map seals are available from a wide range of scientific suppliers and provide an individual seal for each well of the sample plate. Do not overfill plate wells when using cap mat seals as, when samples are frozen, the expansion of the ice can disrupt the seal.
Labelling of plates
All DNA sample plates that are sent to us must be barcoded or clearly labelled. The physical plate name must match the name given to the plate in the submitted DNA sample plate file.
Guidelines for labelling of plates
The minimum plate name length is 1 character. Shorter plate names will make your results file more easily readable.
The maximum plate name length is 15 characters.
Only alphanumeric and underscore or dash characters should be used. Please avoid space, comma and full stop characters.
If you are numbering your plates and have more than 10 plates, please use a leading zero e.g. P01, P02 to facilitate data sorting.
If the plate seal hides the well location identifiers, please mark the A1 corner of the plate.
Packaging of DNA sample plates
If you are submitting more than one DNA sample plate, please ensure that you place a cardboard spacer between each plate. This cardboard layer will prevent the bottom of one plate piercing the seal of the plate stacked below it (see Figure 2).
Wrap stacks of plates in bubble wrap to protect the wells during transit.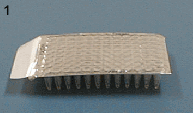 Figure 2. Preparation of several DNA sample plates for shipping. Place a cardboard spacer between each plate to prevent piercing of plate seals.
Shipping
Biosearch Technologies recommends that DNA sample plates are shipped on dry ice. This will ensure that samples remain frozen during transit, thus minimising the possibility of sample leakage.
Please do not send packages on dry ice to arrive at our laboratories over a weekend; we will not receive these until Monday and there is a risk that the dry ice may thaw during this time.
For shipment of biological material to our laboratory sites in the UK and Germany, region specific conditions apply. Biosearch Technologies' customer support can advise what conditions apply for your shipment, and support you in complying with these conditions. To prevent delays and potential loss of your samples, please contact Biosearch Technologies' customer support before you ship your samples.
Shipping address:
LGC Genomics Ltd.
Unit 1-2, Trident Industrial Estate
Pindar Road
Hoddesdon, Herts
EN11 0WZ
UK